Dominic Montwori, RN, CHA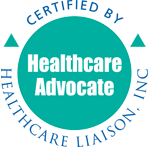 Healthcare Liaison, Inc.® provides services to clients in the nine county San Francisco Bay Area. In addition, we have Affiliates in other parts of the United States. The Affiliates are licensed medical professionals who have completed the Healthcare Liaison, Inc.® Credentialing Program and work cooperatively as a team to offer a wide range of advocacy services.
Contact Information & Service Area
Liberty Healthcare Advocacy
Phone: 718-238-2848
DomMont@nyc.rr.com
9728 3rd Avenue, Suite 307
Brooklyn, NY 11209
NY RN License # 616851
Serving New York City
Practice Focus, Interests
My goal is to search for healthcare options and support you in your selection of medical treatments to receive the BEST possible care.
I provide assistance to people in navigating the complex healthcare system by coordinating care between members of your healthcare team, reviewing and explaining medical test results in language that is easy to understand, and keeping you informed.
Some additional service offerings include:
Monitoring your hospitalization
Accompaniment to physician visits and patient procedures
Researching treatment options for chronic diseases and complex health problems
Health insurance appeals
Medical insurance reviews
Health Care Reform education
Assistance in finding QUALITY independent living, assisted living, or skilled nursing facilities
Professional History
With over 25 years of healthcare experience I've provided nursing care in medical/surgical, oncology, critical care, home care, and mental health nursing.
Prior to becoming an R.N., I worked for 10 years as a hospital medical laboratory technician.
Academic Background
I am a Registered Nurse with an Associate Degree in Nursing from Schoolcraft College, Livonia, MI.
I have successfully completed a yearlong credentialing program in healthcare advocacy through Healthcare Liaison and am now a Certified Healthcare Advocate (CHA). I am a member of the National Association of Healthcare Advocacy Consultants. Additionally, I hold a BFA degree from Massachusetts College of Art, in Boston, and a MFA degree from the Rhode Island School of Design, Providence, RI.