Janice Wendt, RN, MA, CHPN
Contact Information & Service Area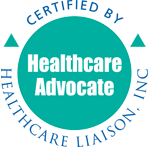 Phone: 412-496-9553
janicew@healthcareliaison.com
www.MyHealthcareCompass.com
PA RN License #RN2940131
P.O. Box 305 Sewickley, PA, 15143
Serving Southwestern Pennsylvania
Practice Focus, Interests
What I've enjoyed most in my 20-plus years as a nurse is helping patients and families become empowered in finding their way around an increasingly fractured healthcare system. I have seen the frustration experienced by patients and families alike in understanding healthcare "language", in sorting through treatment options, in locating providers who meet their needs and in putting the pieces of the healthcare puzzle together. Specifically, I have focused on advanced illness care coordination, and in end of life concerns, both medical, ethical and psychological.
Professional History
As an RN since 1987, I have worked in a hospital oncology unit, started a parish nursing position in a church, and spent 17 years in hospice care, both in management and at the bedside.
Academic Background
I am Pennsylvania-licensed as an RN, hold a BA in Political Science/English from Baldwin-Wallace College (Ohio) and an MA in Communications from American University. I have an RN Diploma from Shadyside Hospital School of Nursing (Pittsburgh, PA). I have national certification in hospice and palliative care nursing.