Lorie Gardner RN BSN
Contact Information & Service Area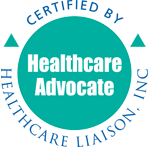 Phone 973-908-6570 or 866-506-1905
www.healthlinkadvocates.com
lorie@healthlinkadvocates.com

NJ RN license #26NR11873900
NY RN License #319245
Serving NJ/ NY Metropolitan Area
Practice Focus, Interests
I have 30 years experience as a Licensed Registered Nurse, including many varied professional experiences. The most important and satisfying experience has always been helping a person in need. My focus is to ensure that patients are equipped with the knowledge and support necessary to make good medical decisions and obtain optimal healthcare in times of illness or aging. Additionally, I am directed towards assisting people with overall physical and psychosocial issues through health and life coaching.
By providing one-on-one support and in-depth education on illness and treatment options, I guide my clients to quality decision making, minimization of stress and protection from duplication of tests and medical errors. My professional communication skills, combined with excellent listening abilities, enhance effective collaboration between family members and the medical community.
Professional History
I have been a Registered Nurse since 1979, beginning my professional career at NYU Medical Center in Manhattan, NY. I worked for several years as a Study Manager of Clinical Trials for Pfizer Pharmaceutical Company and the Orthopedic division, Howmedica and Stryker Orthopedics. I am a Certified Parish Nurse, having developed and implemented a program in my local parish. I have undergone the initial coursework for the Handel Life Coaching program.
Academic Background
I received a Bachelor's of Science in Nursing from Niagara University in 1978. I received a Parish Nurse Certification in 2005. I am a member of the National Association of Healthcare Advocacy Consultants and currently enrolled in the year- long credentialing program for private healthcare advocates through Healthcare Liaison, Inc.