Maggie Radany, RN, MPP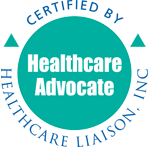 Contact Information & Service Area
CA RN license# 292485
Serving Orange County, California

Practice Focus, Interests
I am a healthcare advocate with over 25 years of experience as a registered nurse and health insurance consultant. Having worked in the health insurance industry for more than ten years, I understand how health plans function and how to engage with them to help my clients navigate the complex issues that arise and get the best possible coverage. As an RN, I also am able to help clients work through clinical issues, primarily by providing the support they need to fully understand their options, make good decisions and be an empowered and effective member of their own healthcare team.
Professional History
Licensed as a registered nurse since 1976, I have worked as an oncology nurse at Stanford University Hospital; as a benefits analyst at M-CARE, a health insurance plan; and as an employee health benefits consultant at UltraLink (now Secova), where I led a healthcare advocacy service for employees of Fortune 500 clients.
Academic Background
I received a Diploma in Nursing from Nebraska Methodist College in 1976, a Bachelor of Science degree in Business Administration from Notre Dame de Namur University in 1984 and a Master of Public Policy degree from Georgetown University in 1986. I am licensed in the State of California, (RN license number 292485) and am a member of the American Nurses Association, the National Patient Advocate Foundation and the National Association of Healthcare Advocacy Consultants.