Mary Anne Hardy, MPH, RN, CHA, Certified Senior Advisor (CSA)®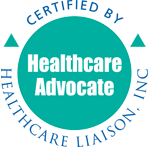 Contact Information & Service Area
Montgomery Health Advocates, LLC
Phone 240-418-6310
info@montgomeryhealthadvocates.com
www.montgomeryhealthadvocates.com
Serving Montgomery County, Maryland

As a nurse, I have always been most interested in education, prevention, and helping patients get and stay healthy. As a daughter and a mother, I have learned that making healthcare decisions is not always clear-cut or simple. I became a health advocate in order to continue helping clients make informed decisions about their health care through information, education, and support. I help clients clarify their goals and
Explain diagnoses and medical terminology
Research treatment options and their risks and benefits
Communicate with healthcare providers and accompany clients to appointments
Identify medical services and community resources
Plan for self-care and future healthcare needs
Work to maintain and strengthen independence and partnerships with family members and healthcare providers
I welcome families and clients with questions and concerns about any kind of acute or chronic medical condition, seniors, asthma and food allergies, learning differences and ADHD, high-risk pregnancies, and safety issues at home and in the hospital.
Professional History
I actively practiced nursing for 19 years before taking time out to raise my children. My work as a Nurse Consultant with an independent health education company for 8 years allowed me to work one-on-one with clients who had a myriad of health and medical concerns and help them make informed medical decisions. I have also worked with patients with high-risk and healthy pregnancies, newborns, and adolescents. I most recently worked on medical device safety issues.
Academic Background
Certified Healthcare Advocate, Healthcare Liaison, Inc., 2013
Member, Society of Certified Senior Advisors®, 2012
Master of Public Health, Johns Hopkins University Bloomberg School of Public Health, 1986
Bachelor of Science in Nursing, Case Western Reserve University Frances Payne Bolton School of Nursing, 1979
Bachelor of Arts, Oberlin College, 1977