Paula Castellano-Flynn, RN
Contact Information & Service Area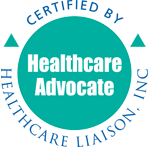 Phone: 203-966-1722
info@nursebyyourside.com
www.nursebyyourside.com
CT RN License # E39246
Serving CT, and lower Westchester, NY
Practice Focus, Interests
When my family members and friends have health problems or questions, they often trust me to help them get the appropriate care they need. Who is there for people who don't have a health care professional in their family? This is what prompted me to form BY YOUR SIDE, a Healthcare Advocate Service.
Over my 30 years of Nursing experience working over a broad spectrum of the health care industry, I've witnessed the medical field become ever more advanced and confusing for a growing number of patients. It is not uncommon to see multiple doctors, undergo many tests, procedures, treatments and surgeries, and be given a myriad of medications.
As a Nurse Healthcare Advocate, I can represent you or your family member when you may be least able to speak up for yourself. My services are personal, and can include accompanying you to medical appointments, as well as coordinating care between the various members of your healthcare team. I am here to review and explain test results and healthcare choices in a language that you can understand and to guide you in carrying out your decisions. Helping you get the best care possible, I will be BY YOUR SIDE on the road to recovery.
Professional History
As a Registered Nurse, licensed in CT, NY, and FL for over 30 years, I have enjoyed a diverse medical experience. I've provided nursing care and management in Critical Care, Home Care Case Management, Education of staff and families in Long Term Care, Research and Infection Prevention.
Academic Background
Current enrollment in Private Healthcare Advocate certification program 2010
Advanced Cardiac Life Support, Pediatric Advanced Life Support, Certification - 2009
CPR Instructor
Infection Control Practitioner, Certification, 2005
Member: Infection Control Nurses of CT
R.N. with an A.S. from Norwalk Community College, 1977