Sima Kahn, MD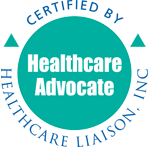 Healthcare Liaison, Inc.® provides services to clients in the nine county San Francisco Bay Area. In addition, we have Affiliates in other parts of the United States. The Affiliates are licensed medical professionals who have completed the Healthcare Liaison, Inc.® Credentialing Program and work cooperatively as a team to offer a wide range of advocacy services.
Contact Information & Service Area
Phone: 206-954-8805
drkahn@healthcareadvocacypartners.com
www.healthcareadvocacypartners.com
WA license# MD00024746
CA license# G59965
1425 Broadway Avenue #402
Seattle, Washington 98122-3854
Based in the Puget Sound Region, Serving Patients throughout Washington State
About Dr. Kahn
A board certified physician, Sima Kahn has always been a passionate advocate for her patients and founded Healthcare Advocacy Partners in 2009 to fill a critical gap in the healthcare system. After almost 25 years of Obstetrics and Gynecology practice, Sima's breadth of clinical experience has given her a deep understanding of the complexities of the medical system and the overwhelming confusion patients often feel when faced with significant health situations.
Her strong abilities to help patients navigate these situations and to help them develop personalized treatment plans are some of the many reasons Sima consistently received high patient-satisfaction ratings while in clinical practice.
For Clients
Coordinate care and communicate with your medical team
Help with medical decision-making
Oversee care and support you during hospitalization
Research treatment options and sources for excellent care or second opinions
Review and organize medical records
Help you understand treatment options
Accompany you to medical appointments
Assist with aging relatives
Organize your "end-of-life" documents so your wishes are known
For Advocates
Translate a complicated medical issue into an easy-to-understand synopsis
Research treatment options
Reach physicians—MDs are more likely to call back an MD
Professional History
I have practiced as an Obstetrician/Gynecologist, providing health care for women, since 1983. I have both inpatient and outpatient experience, having delivered babies, provided prenatal care and outpatient gynecologic care, and performed gynecologic surgery. I was trained in a large University Hospital setting, spent a year as a clinical assistant professor at a UCLA teaching hospital training resident physicians while caring for patients, and have provided medical relief work overseas. I worked in private practice before joining a large HMO, where I practiced for 17 years.
Academic Background
I am a board certified Obstetrician/Gynecologist, licensed in Washington State (license number MD 00024746) and California (license number G59965). I graduated from the University of California San Diego School of Medicine in 1983, and completed my residency in Ob/Gyn at the University of Iowa Medical Center in 1987.