Dr. Stacey Batista
Contact Information & Service Area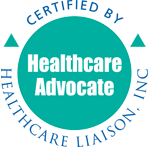 Phone: 617-651-1990
drbatista@bostonhealthadvocates.com
www.bostonhealthadvocates.com
Based in the Boston area and serving clients throughout the US
Practice Focus, Interests
At Boston Health Advocates, we support and guide parents, children, and you through the complexities of the health-care system. Our services include:

Assistance with diagnosis and treatment
Researching and explaining treatment options and unclear diagnoses
Coordination of care
Connecting you to specialists and top medical centers
Facilitating the second opinion process
Support talking about illness and identifying resources for guidance
Medical decision making
Help with medical billing and insurance questions
Supporting you through end of life discussions and times of stress and vulnerability
We develop an action plan for you that will help you clarify and assess these issues, educate you about your options, provide information about resources and referrals to support groups or other organizations, decision-making support, and action steps. We also are available to attend medical appointments with you, visit you in the hospital, or advocate with schools; at all these places, we help coordinate your medical care and demystify medical jargon. Our goal is to bring you greater satisfaction with your medical care and peace of mind.
Professional History
Dr Stacey Batista is a graduate of Tufts University School of Medicine in Boston, where she also completed her internship in Medicine/Surgery in 2007. During a ten year hiatus from medicine taken to care for two young children and ailing parents, she experienced firsthand the demands on family and caregivers in managing elderly family members with serious health conditions, including pancreatic cancer, Alzheimer's dementia and heart disease. Her inside knowledge of the cogs and workings of the medical world played a crucial role in the good health outcomes of her relatives and in relieving their stress and anxiety. The experience made clear the need patients have for a level of support that currently does not exist in our healthcare system. Dr Batista is particularly interested in working closely with clients to help them to define what is most important to them in their lives as they face challenging health diagnoses and then supporting them as they navigate through.
Awards and Certifications
2007, Intern of the year award, NEMC / Lemuel Shattuck Hospital
2017, Healthcare Liaison, Inc., Certificate in Healthcare Advocacy
Academic Background
Education
1990, Pomona College, BA Women's Studies and History
2002, Tufts University School of Medicine, MD