Yvonne Mossberg, BSN, CHA
Contact Information & Service Area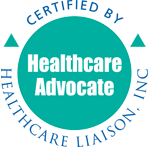 Prairie Healthcare Advocacy, Inc
Phone: 605-941-0868
Yvonne@prairiehealthcareadvocacy.com
Serving South Dakota, Minnesota and Iowa
Practice Focus, Interests
The need for the profession of Healthcare Advocacy occurred to me after many years of doing health advocacy for family and friends. I have seen the advantage that patients have by having a professional in their corner with their best interests at heart.
The healthcare system has become very complex and many people have no one to help them navigate through it. I have worked in many different settings and have seen the Healthcare industry from many different perspectives. This has given me both knowledge and understanding of health and healthcare issues. As a Healthcare Advocate, my primary focus is my client. Some of my services include:
Attending doctor appointments and testing with you
Explaining medical terms and conditions to you
Researching treatment options
Coordinating care with your entire healthcare team
Reviewing your medications
Researching and finding the most suitable independent living, assisted living, or skilled nursing facility for you
Professional History
I have nursing experience in both hospitals and nursing homes. I have teaching experience in Health Occupations in a cooperative education program. Most of my experience has been in pharmaceutical sales where I gained in-depth knowledge of many aspects of the healthcare industry.
Academic Background
I have a Bachelors of Science degree in Nursing from the University of Iowa. I have successfully completed a yearlong credentialing program in healthcare advocacy and am now a Certified Healthcare Advocate (CHA). I am a member of the National Association of Healthcare Advocacy Consultants.