I had a client the other day who is struggling with the long-term effects of Hepatitis C.  It has changed her life, and left her frustrated and angry about treatments she can't seem to access, drugs that aren't yet approved and delays in care.  I was talking with her the other day as we waited for her liver biopsy to begin, and I asked her how I could best help her.
She replied that she was discouraged and felt that the drug that was about to be (we hope) FDA approved for treatment of Hepatitis C (sofosbuvir) wouldn't be available to her.
I looked at her face and saw the fear and discouragement there.  And I thought, sometimes what a Healthcare Liaison needs to do is simply be the presence that "holds the possibility" that things will work the way she'd like.  And that is what I told her:  "I know you are very discouraged and believe this drug will not be offered to you.  But I see a real possibility that it will.  So, if you need me to be the one who temporarily holds on to that possibility until you can do it for yourself, I will do that."
And her answer?  She let out a long sign of relief and said "yes, please hold on to that for me."……..
When Bob Whitlow, a long-time paraplegic, faced a recent health crisis, he hired a private health advocate to help. Given the increasingly complex health-care system, it's a path more patients may start taking, says MarketWatch's Kristen Gerencher
After several months absence–and many wonderful developments–I am resuming the Healthcare Liaison Blog!  It was a very busy fall…
Healthcare Liaison is expanding the 2010 locations for for its popular two-day workshop "Becoming a Healthcare Advocate:  11 Steps to a New Career in Healthcare".  These workshops are open to consumers, professional healthcare advocates, those teaching in the field and policy and legislative interests.  We have new locations!
SEATTLE, WA–January 30 and 31st
BERKELEY, CA–February 27th and 28th
TUCSON, AZ–March 20th and 21st
BOSTON, MA–May 1st and 2nd
The links will take you to the brochure describing the workshop and you can complete payment on-line with a credit card or PayPal.  There are still spaces in the Seattle workshop and registrants are eligible for a referral bonus when they "bring a friend".
In other major news, we have a professional organization!  I founded the organization, the National Association of Healthcare Advocacy Consultants,  in July 2009 and am now the President of NAHAC for 209-2010.  You can read about the Association and join at NAHAC
In November 2009 the newly-formed National Association of Healthcare Advocacy Consultants held its First Annual Conference!  NAHAC  currently has 62 members and membership is open to everyone:  professional advocates, consumers, academicians and policy and legislative participants. Members who were not able to attend the conference can listen to the podcast on the web site and hear workshops on case studies, HIPAA for advocates, insurance-made-understandable and more.  to join:  NAHAC.
We are holding our second annual Conference in Washington DC in November 2010.  Join NAHAC to get the details as soon as they're released!
Marie Shouldice R.N. B.S.N.
Phone: 510-300-4782
mariesrn@healthcareliaison.com
Serving clients ages 14 years and up
in Alameda & Contra Costa Counties.
Certified Private Healthcare Advocate
Practice Focus, Interests
Practically speaking, I am a human GPS for healthcare, and can take you on the most direct and useful route to your healthcare destination. I regularly perform complex case management and discharge planning, pre-operative orthopedic total joint instruction and general surgery preparation and recovery planning. I will assess your situation, and together we will create an individual plan of care to meet your needs.
Navigating the healthcare system on your own can often take you on circuitous routes and sometimes end up in gridlock. With my up-to-date, practical, and functional knowledge as a Case Manager, I will enable you to recognize medical "traffic jams" while confidently advocating your concerns to your healthcare providers. I can efficiently and thoughtfully navigate the healthcare system, both inpatient and outpatient.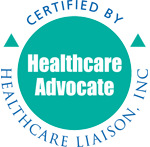 Professional History
I have been an R.N. Patient Care Coordinator/Case Manager for more than 25 years. I have worked at UCSF, St. Mary's Medical Center, San Francisco, and have spent the last 8 years at Kaiser Permanente Medical Center.
Academic Background
I am a California-Licensed R.N. and have a Bachelor of Science Degree in Nursing from San Francisco State University. In addition, I have a Certificate in Legal Nurse Consulting from California State University East Bay.
Michael Knappman, BS, MPAS
Phone: 707-792-1619
michaelk@healthcareliaison.com
Serving Sonoma County, Northern California
Certified Private Healthcare Advocate
Practice Focus, Interests
"I am a cancer survivor and have experience assisting others with cancer diagnoses, understanding the complex choices they face, and accessing appropriate care. My field of practice has been in primary care medicine serving individuals of all ages. I have considerable experience working with the Spanish speaking population, and have a special interest in working in cross cultural medicine."
Professional History
I have practiced as a licensed Physician Assistant in the areas of primary care medicine, women's health, and pediatrics for over 20 years. I spent the last 17 years working for the Sonoma County Health Services Department, in Santa Rosa, CA.
Academic Background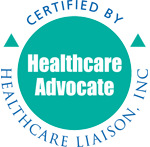 I received a Bachelor of Arts degree in Sociology from UC Berkeley, and my Physician Assistant Certificate from the UC Davis Medical School FNP/PA program. I completed a Masters of Physician Assistant Studies through the University of Nebraska Medical School. I am a member of the California Association of Physician Assistants (CAPA), the American Academy of Physician Assistants (AAPA), and the American Professional Society on the Abuse of Children (APSAC). I served as a Board member of the Jewish Community Free Clinic in Rohnert Park, CA for six years.