For Individuals and Families
People Frequently Ask
How do I decide what to do?
Are there resources to help me?
How do we get the care we want?
Services for Individuals & Families
Emergencies: Guiding you and your family through a crisis.
Planning: Arranging for care during and after a hospital stay.
Advocacy: Helping you understand and receive the care you need.
Resources: Locating community resources for your healthcare needs.
Long-term Planning: Addressing plans for care in the future for you and your family.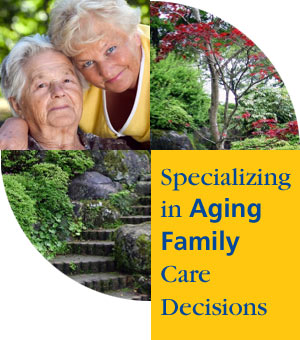 Healthcare Liaison Offers
Clear, compassionate explanations of available options
Innovative, comprehensive solutions
Someone to explain, translate, and frame options for you
Benefits for you and your family
Clear information on your healthcare options.
Comprehensive services tailored to your specific needs.
Personalized Assistance in planning for future healthcare needs.
Compassionate Advocacy.
Clear, compassionate explanations of options
"Healthcare was a maze to me. I was scheduled for hip replacement surgery and was unsure of the kinds of care available after surgery. Healthcare Liaison was able to explain clearly to me what choices I had after surgery, what my insurance would cover and how I could arrange for them in advance. Then they followed me through my hospitalization and ensured that the services I needed were in place: that was a tremendous relief for me."
Barbara, San Francisco, California
Innovative, comprehensive solutions
"My partner and I are in our 40s and we have young children: we never thought we'd be dealing with any of this. Then my partner had a stroke. I didn't know what the options were: I have to work full time, and I couldn't do that and take care of her and our children at home. Healthcare Liaison explained what our choices were and helped arrange for care at home. They provided thoughtful and supportive care to our entire family."
Sonia and Andrew, San Leandro, California
Someone to explain, translate, and frame options for you
Our baby was born early, at 28 weeks. We were overwhelmed by the technology in the hospital nursery and the constant changes in our baby's condition. Sometimes it was difficult to understand what the medical staff were explaining to us because we were so stressed. Healthcare Liaison stayed with us through the meetings and decision-making times, explaining choices, clarifying medical terminology and providing resources and information. When our baby was ready to leave the hospital, Healthcare Liaison followed us home and continued to work with us over the next few weeks until we were comfortably settled in at home with our baby.
Kim and Ravi, Oakland, California
Joanna Smith LCSW, MPH, CHA
CEO of Healthcare Liaison, Inc. She has 30 years experience in the fields of health, public health and mental health in healthcare systems throughout the San Francisco Bay Area.
Affiliate Advocates
Sima Kahn, MD, CHA

Based in the Puget Sound Region, Serving Patients throughout Washington State
Healthcare Liaison Up Close
The Roles of Private Patient Advocates
7 minute audio podcast
modernhealthcare.com
Jan. 2011
Six Ways to Use Communication for Good Patient Transitions
by Joanna Smith
Curaspan Health Group
Sept. 2010
Advocates In the News
A New Breed: Navigating the Healthcare System
American Way Magazine
May 2013
Patient's Fear of Being 'Difficult' May Hurt Care
San Francisco Chronicle
May 2012
When Health System Fails You, Advocates Can Help
When Bob Whitlow, a long-time paraplegic, faced a recent health crisis, he hired a private health advocate to help. The Wall Street Journal MarketWatch
May 2011
(04m:03s video)
Press Releases
Healthcare Liaison, Inc. Expands Credentialing Program For Healthcare Advocates
Berkeley, CA
June 15, 2010
(57K PDF file)