Darlene Ryno, RN, BSN, CPHQ, PHN, CHA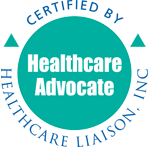 Healthcare Liaison, Inc.® provides services to clients in the nine county San Francisco Bay Area. In addition, we have Affiliates in other parts of the United States. The Affiliates are licensed medical professionals who have completed the Healthcare Liaison, Inc.® Credentialing Program and work cooperatively as a team to offer a wide range of advocacy services.
Contact Information & Service Area
Phone: 951-737-2199
DarleneHCA@cox.net
CA RN License #335646
Primarily serving the San Diego, California Area
Practice Focus, Interests
I have over 30 years of experience as a Registered Nurse in a variety of clinical settings. My passion now is to use my expertise to help you understand the healthcare process and work towards resolving issues for you. My most recent experience is in Managed Care/Medical Insurance. My focus is quality studies, denials & appeals of referrals, complaints, clinical trials and genetic testing. I can problem-solve and ease the confusion of how to get what you need and want the most from your health care team. My goal is to give you the resources & support you need to make informed decisions. I will do everything I can to ease the complex navigation through the system and decrease stress by coordinating care and help to "make sense of it all". This can allow the natural healing process to occur by letting me worry about the difficult details.
Professional History
I have been a Registered Nurse since 1980. I worked at La Habra Community and Hoag Memorial Hospitals in Orange County, California in medical, surgical, oncology and an alcohol-chemical dependency unit. Then 6 years in the Boston area at Emerson Hospital in Concord, in ICU/CCU and did research for heart clinical trials and worked in a busy cardiology office in Brookline, Mass. Then at Riverside Community Hospital, Trauma/Open Heart ICU. I was the Director of Quality & Risk Management for 13 medical clinics in Riverside. I worked for Inland Empire Health Plan in San Bernardino & Molina Health Plan. In San Diego I did international sales for a heart device company, then medical claims (billing) review, quality management for Vantage and Sharp Community Medical Groups. I work in Utilization Management (referrals for specialists, surgeries, genetic services, clinical trials and out of area requests). I have a diverse background in healthcare so this gives me a distinct advantage for a wide variety of requests. I am passionate about what I do and love a challenge.
Academic Background
Certified Healthcare Advocate (CHA), Healthcare Liaison, Inc., 2013
Member, National Association of Healthcare Advocacy Consultants (NAHAC), 2013
Certified Professional in Healthcare Quality (CPHQ), 2001
Certified Critical Care Nurse (CCRN), 1989
Certified Public Health Nurse (PHN #33614), 1981